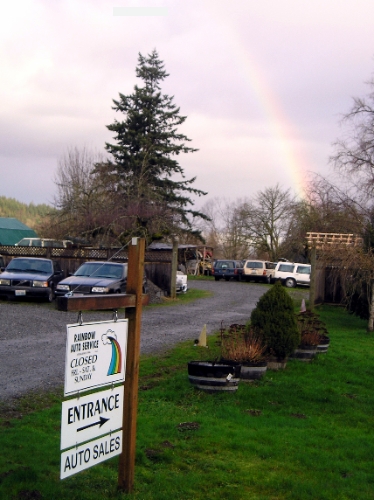 Rainbow Auto Service & Sales specializes in high quality, efficient and affordable Volvo repair using the best mix of Volvo branded parts and the highest quality of aftermarket sources. We keep an extensive inventory of parts on hand for your Volvo and are often able to provide same day service where our competitors cannot. Our location near Bellingham, in bucolic Whatcom County, provides you with a few unexpected bonuses. You can enjoy walks while waiting for service; enough quiet to hear those "strange and elusive car noises", and near empty roads for test-drives to identify your Volvo's exact malady.
FREE PRE-PURCHASE INSPECTION
Are you considering the purchase of a Pre-Owned Volvo? If it is not from our stock as a Used Volvo Dealer, you can schedule a Rainbow Auto Service & Sales pre-purchase inspection before you buy. We will test drive the car, provide an thorough under-hood and under-car inspection and review maintenance history to help you make an informed decision BEFORE you buy.
WHY WE SPECIALIZE IN VOLVOS
It is no secret that Volvo's are engineered to a different standard than most cars on the road. Older Volvo's have a few "traditional" places they develop troubles and the post 2001 Volvo's are very electronically centric in all their controls.
Rainbow Auto Service has been servicing, repairing, buying, and selling Volvos since 1986! We know a thing or two about Volvos.
Does your high-mileage or "maintenance deferred" Volvo need some love? Let us perform a free, no obligation pre-purchase inspection to help you decide whether it is worth it to repair or if it is, indeed, time to part ways with your beloved.
YOUR VOLVO IS OUR SPECIALTY
This is our motto, which means is we love your Volvo almost as much as you do!
At Rainbow Auto Service & Sales we do things differently and we think you'll like it. Communication is very important to us. You can speak with our technicians, watch some of the work being done and even be shown how it works, and why it's broken.
Many shops charge – and pay their employees – by a flat rate (or "book rate") established by the automotive repair industry. Rainbow Auto Service & Sales employees are not paid by a "flat rate" for the job. The Technicians are not rushed, and if they have to do it twice to get it done right that's fine with us. First and foremost I would rather get your job done right. This results in less comebacks and greater satisfaction for our technicians and customers.
My technicians have been with me between 11 and 12 years each. This is no small thing. It's important that they are paid a decent wage, with health benefits and ample time off. Our 4-day workweek with 4 weeks of paid vacation per year is hardly an industry standard. I believe their lives are best spent not entirely at work.
PEOPLE SAY HOW BEAUTIFUL IT IS TO COME HERE
We're not in the city and sometimes the benefits are not simple to explain. Test drives are an important part of fixing Volvos right and around our shop is so quiet with its light traffic that noises and symptoms of all kinds are easier to find, confirm and fix. Customers can take walks, sit in the grass and have a moment to be with themselves. Our loaner comfort bike is for those who prefer activity while they wait. Use the FREE Internet in our waiting room to check your Email or surf the web. These are not features to be found in other auto repair waiting rooms.
If you prefer to wait and have not pre-arranged a ride we'll frequently arrange rides by car pool, bus or taxi. Trip to the airport… no problem. I have customers who travel from Tacoma or Tonasket because we take such good care of them
OUR GOAL – FIX IT NOW
We stock more parts, for more years and models of Volvos than most shops around. Our service area is larger because we cater to areas like the San Juan Islands. Frequently islanders bring their Volvo in, leave to do their mainland shopping and return to find their service complete. Island people usually need to leave the island to get things done, and when it's done the same day they save time and money.
We're a green shop and we've been managing the automotive waste stream since before it was fashionable. We heat our shops with your cars drain oil. Tons of cardboard packaging is recycled each year. Waste coolant is picked up and reprocessed back to use in your car. These are just some of our clean shop practices. Ask for a tour.
We're the little car dealer that does. We sell and consign to sell Volvos from many sources. We buy, fix and sell cars of good value, which will serve you for years. Not real high-end stuff but a great many satisfied drivers have taken home a Rainbow Auto Volvo. We do things differently.
Larry Watson Owner/ASE Master Tech