2729 Jensen Road Bellingham, Washington 98226
CLICK HERE FOR DIRECTIONS THROUGH GoogleMaps
CLICK HERE FOR DIRECTIONS THROUGH MapQuest
LAUNCH THE WAZE GPS APP. (Link active only from mobile devices)
We're always happy to see you but
a phone call us first is never a bad idea
360-734-6117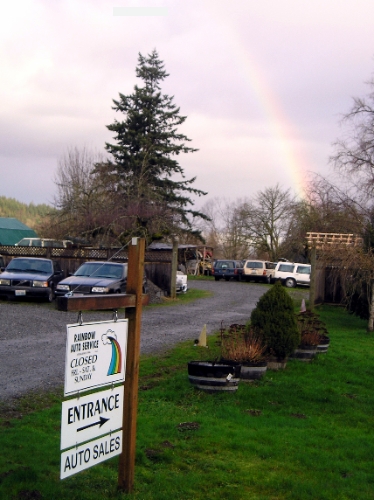 Directions
From Interstate 5 in Bellingham take Exit 255, the Sunset/Mount Baker Highway exit.

Head EAST for 6 miles.

Just after you pass Mission Road bear to the RIGHT at the "Y Road" fork.

Follow "Y Road" for 2 miles to the THIRD intersection; JENSEN ROAD.

Turn RIGHT on JENSEN ROAD.

Follow JENSEN ROAD for 1/4 mile.

RAINBOW AUTO SERVICE & SALES on the right at 2729 Jensen Road
(the second place on the right).
(If you come to a top sign, you have gone too far)
NOTICE FOR TOW-IN OPTIONS:
IF you call your insurance or AAA for towing, be sure and tell them you HAVE PERMISSION to drop your car off 24/7. Leave a note of your car issues as well as the keys with the driver.
EVERY AAA service provider has been to our shop and knows our protocol, but the AAA operator you have on the phone WILL NOT KNOW THAT!
If you DO NOT have Roadside Assistance and need towing, you can call our shop and we can set up a short tow from any Whatcom County City.
If that doesn't work, please contact one of our preferred service providers.
ASAP TOWING at 360.734.6465
BelCo TOWING at 360.778.2275

Take the Bus
Daily Whatcom Transit service is available to a pickup location on Mt. Baker Hwy or Britten Road by Rainbow Auto Service & Sales for your convenience. Phone WTA at 360.676.7433.
Shuttle Service
If you are unable to enjoy our pastoral surroundings while your car is being serviced, transportation can be provided to the most convenient WTA location.